Foxborough Trains & Rail Lines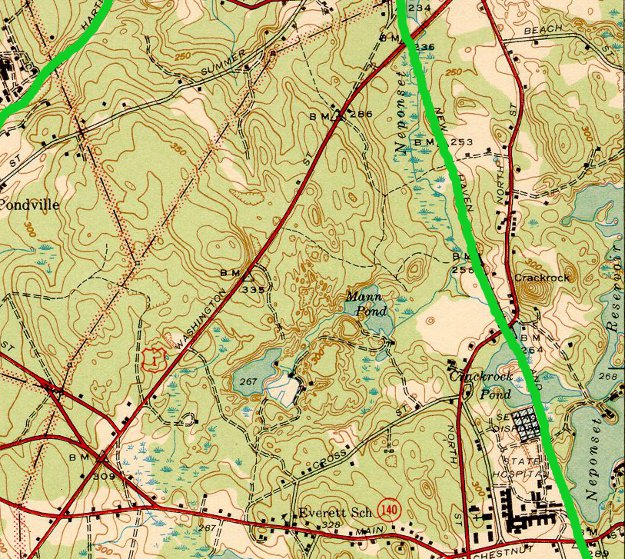 The Boston and Providence Railroad was incorporated June 21, 1831.
Old Colony Railroad operated from 1845.
The Mansfield and Framingham Railroad was incorporated in 1862 as the Foxborough Branch Railroad to provide a rail connection from Mansfield through Foxborough to Walpole. In 1867, the name was changed to Mansfield and Framingham Railroad. The 22.1 mile line was completed on May 1, 1870.
New York, New Haven, and Hartford Railroad
The train arrived in North Foxborough (a.k.a. Morseville) in 1886.
Norfolk & Bristol Electric Railroad's spur line to Lake View ballroom was discontinued in 1919.
The East Foxboro station closed in November 1977.
The Foxboro Stadium stop is part of the Boston, Clinton, Fitchburg and New Bedford Railroad, Old Colony Railroad, New York, New Haven and Hartford Railroad, Conrail, and now CSX line. The line connects to the MBTA's Franklin Line at Walpole and the Providence/Stoughton Line at Mansfield.
For deeds, easements, sales, and more, see also: Consolidated Rail Corporation 1978+, New York Central Lines, etc.
* Rail lines near Route 1 are shown in lime green on map.
|

|
Keeping an eye on developments on Route 1 and within the town with a current focus on a proposed Resort Casino in the 200 acres of land on the west of Route 1, across from Gillette Stadium and Patriot Place.





Thank you for visiting